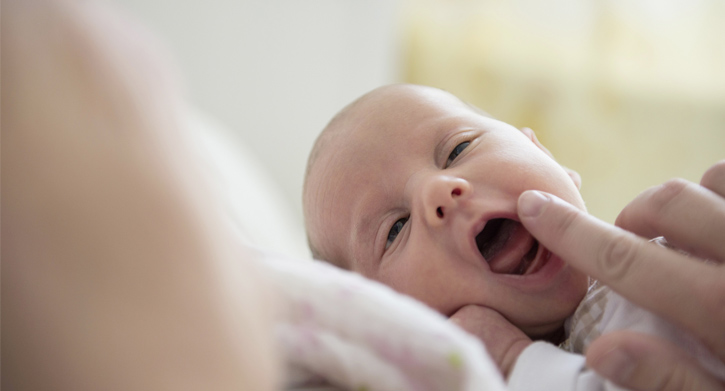 As natural as possible. As safe as necessary.
No matter if you prefer natural birth, outpatient or painfree birth, we are at your disposal 24 hours a day and meets your every wish. We support women who prefer natural childbirth. But in case we are prepared for all possibilities.
You choose. We provide safety.
It is our goal to fulfil your wishes for childbirth. Comprehension, empathy and trust between parents, doctors and midwives are the basis of a stress-free atmosphere. A wide range of birth positions from bathtub and gym ball to birth stool facilitate a most comfortable childbirth.
Natural birth
Length of childbirth varies widely. Midwife and doctor monitor progress contstantly. Your midwife provides advice and support and shares her knowledge about breathing, massages, aroma therapy etc. with you. We do our best to make this time as agreeable as possible for you anda re always there for your wishes. Maybe you would like to take a walk in our park, enjoy a hot bath, try out diffferent positions and prepare yourself for childbirth. Together we will find the ideal birth position for you. Your natural birth at Rudolfinerhaus is embedded in a stringent safety net. Gynaecologists and anaesthesiologists are on standby around the clock and our operating team is always prepared should the need for a C-section arise, as well as the team of the neonatal on-call duty.
Painless birth with peridural anaesthesia
Peridural anaesthesia means injecting a locally effective anaesthetic near the main nerves in your vertebral canal, which transmit pain during childbirth. You can choose your position for childbirth while the pain reduction increases your stamina and capability to push. An anaesthetist is always around to monitor the effectiveness of anaesthesia and guarantee the wellbeing of you and your baby.
At our birth preparations sessions anaesthetists explain the different methods in detail and with illustrations. We also invite you for a pre-anaesthetic consultation. You can make your appointment through the office of the Medical Director, by calling Marion Mayer-Burianek: +43 (0)1 36 0 36 6019.
Planned C-section
If you wish a C-section or it besomes necessary, you will receive local anaesthesia. Compared to full anaesthesia, advantages are numerous, especially the reduced impact on your baby by the anaesthetics. Mothers also experience the childbirth more actively, have contact with their newborn imediately, feel better and the risk of nausea is greatly reduced.
Outpatient childbirth
Outpatient childbirth at Rudolfinerhaus ideally combines the safety of a hospital with the feeling of security and a homely atmosphere. Mother and child usually are back at their home within 24 hours. Aftercare visits by our midwives are possible.
Childbirth with a midwife
If you wish, your midwife accompanies your childbirth exclusively. All safety measures will remain in place.
In case of emergency, our team of gynaecologists, the surgery room if a C-section is necessary and the Intermediate Care Unit are available around the clock.
Infrastructure
3 delivery rooms
10 childbeds in single or family apartments
1 nursery
1 breastfeeding room
Midwives and paediatric nurses fully employed
Various freelance midwives
Gynaecologists present 24 hours
Anaesthesiologists present 24 hours
Neonatologists on duty 24 hours
What you need and what you need to know.
As you will never know exactl when labour starts, we recommend preparing your for hospital in the 7th month of your pregnancy. For your convenience, we prepared a checklist for you.