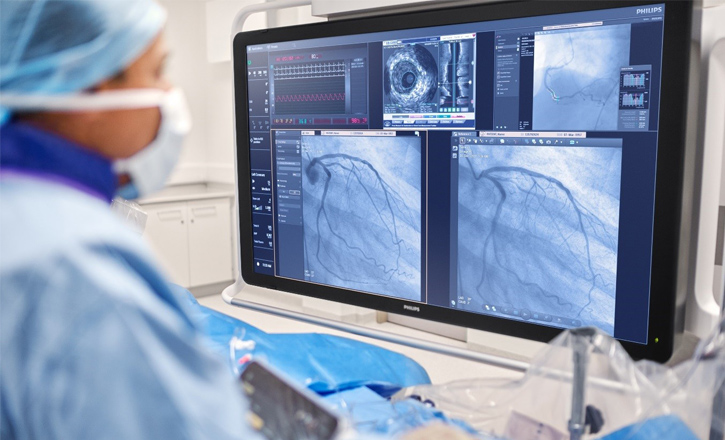 Invasive cardiology at Rudolfinerhaus
At the interventional cardiology unit of Rudolfinerhaus, we perform more than 450 angiographies per year. We are the leader in this regard among private hospitals in Austria.
Our state-of-the-art equipment ensures reduced radiation exposure during the procedure. In addition to low radiation exposure, the system provides extremely sharp images of very high resolution. Equipped with the most recent software, a touchscreen, and an intuitive operating concept, we save many manual steps and thus reduce the time needed to administer the treatment.
Cardiac angiography & intervention
Gentle angiography of the radial artery is performed at Rudolfinerhaus. The catheter is introduced at the wrist. This avoids complications and enhances the comfort of the investigation. Constrictions or obstructions of vessels are identified by cardiac catheterisation and – if necessary– a stent is inserted by balloon dilatation. If you need an intervention in the heart or a bypass, the subsequent treatment is provided in cooperation with the experienced cardiac surgeons at the Medical University of Vienna.
Electrophysiological interventions & cardiac ablation
Cardiac arrhythmia that cannot be controlled with drugs can be eliminated by ablation in the areas causing the arrhythmia. This demanding procedure involves ablation of the source of disease in the heart muscle – and the heart usually returns permanently to its natural rhythm. The revolutionary 3-D technology used at Rudolfinerhaus reduces radiation exposure to a minimum by the use of magnetic navigation systems.
Head of Invasive Cardiology & Angiography
Thomas A. Brunner, MD
Specialist in Internal Medicine & Cardiology
Deputy Medical Director