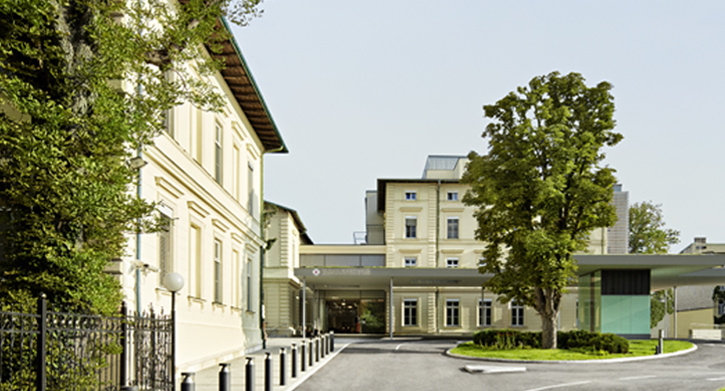 Highly qualified physicians, most modern diagnostic and therapeutic facilities, top nursing staff, personal dedication and a calm environment make our hospital a center of health.
The relationship with patients is a key factor for recovery. Trusting doctors and nurses, communication with respect, friendliness and empathy as well as striving to reduce stress lead to a quicker and more sustainable healing process.
To this, renowned medical specialists and our highly qualified nursing staff mostly trained in our inhouse Campus contribute decisively. And live up to the philosophy of Rudofinerhaus from the beginning of their careers.
Wellness leads to swifter recovery
Rudolfinerhaus is not only one of the most modern but also one of the most beautiful private hospitals in Austria. The magnificent 5.000 sq. meter park on the slopes of Kahlenberg, die spacious apartments with verandas, the sustainable building materials, soothing colours and gourmet cuisine. All these factors improve your wellness and contribute to your recovery.
Your trusted doctor is always on your side
At Rudolfinerhaus you choose your doctor – and it is Austria's first hospital with a comprehensive ISO certification. You can bring your physician of choice to our hospital and use all facilities, such as diagnostics and the expertise of a wide range of specialist doctors. Your doctor dedicates much time to you, arranges for all steps of your treatment and is your primary contact for all medical issues. He visits you daily on his ward round and is available over his phone at all times, also on weekends. Consistent and excellent medical support is guaranteed in any moment.
Main medical specialities
We offer a wide range of medical top specialists with a focus on these areas:
Internal medicine
Surgery
Cardiology
Orthopaedics & Traumatology
Gynaecology & Obstetrics
Neurology & Neurosurgery
Urology
Oncology
Ear, Nose & Throat
We offer comprehensive diagnostics and gerenal surgery as well as a wide range of other medical specialities, such as ophthalmology, dermatology and plastic & reconstructive surgery.
No waiting time for outpatients
The quicker the better! At our Private Outpatient Clinic there are no waiting times. We guarantee prompt appointments for examinations, procedures, therapies and check ups, also on weekends.
Everything under one roof
Rudolfinerhaus is your one-stop shop: Outpatient clinics, X-ray, MRI, laboratory or Physical Medicine & Rehabilitation are all on our premises. Thus processes are swift and easy.
The biggest advantage for our patients: the entire treatment process is guided by our interdisciplinary approach from diagnostics to treatment: No delays, no stress and reliable schedules mean quicker recovery.