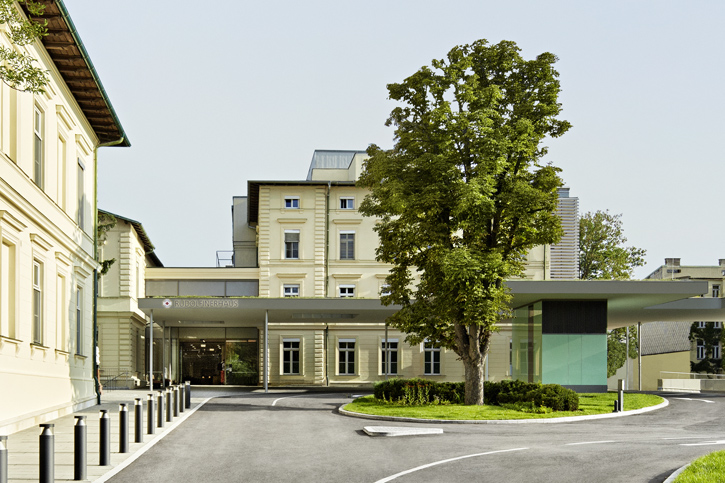 Vienna, medical capital.
Vienna's reputation is excellent among physicians. Since the 18th century, the "Vienna School of Medicine" signifies important scientific progress. In addition, Rudolfinerhaus always was a part of that tradition. Starting with its founder, renowned surgeon Theodor Billroth, and other famous doctors in 1882, we pursue this tradition even today. Noted physicians and our outstanding nursing staff focus our patients' wellbeing at all times. This and the fact that Rudolfinerhaus is Austria's only private hospital with a comprehensive ISO certification show our top standard in quality and safety!
Rudolfinerhaus Private Hospital
Three facts make Rudolfinerhaus special comparing it to public hospitals in Austria:
Your free choice of the best doctors auf all medical fields
The personalised caring by our competent and highly professional nursing team
The modern equipment of our luxury apartments worthy of a 5-star-hotel
One-stop shop.
The outpatient clinics, angiography, X-ray, MRI, CAT, laboratory, physical medicine and rehabilitation. All main medical services are directly on our premises. You will find everything at short distance.
Your main advantage as a patient: the whole process from your first diagnosis up to your discharge is accompanied by doctors, therapists and nurses in a constant interdisciplinary exchange. This means no delays, plannable treatments, no stress and quicker healing.
Main Medical Fields at Rudolfinerhaus:
Internal Medicine
Surgery
Cardiology
Orthopadeics & Traumatology
Gynaecology & Obstetrics
Neurology & Neurosurgery
Urology
Oncology
Ears, Nose, Throat
In addition to comprehensive diagnostics and general surgery, we also offer a range of other medical fields, such as ophthalmology, dermatology or plastic & reconstructive surgery.
Your second opinion.
In many cases, it makes sense to get a second opinion on your medical issues. Our internationally renowned doctors can help you with this.
Look after you health.
Preventive health checks on a regular basis are important to discover possible health problems at an early stage and help to maintain a long and healthy life. Rudolfinerhaus offers a wider range of check-ups, fit for your individual needs: Detailed conversations with our doctors, basic and specific examinations for your chosen area.
Most modern "Green Building" technology
Almost completely newly built in 2020, Rudolfinerhaus has become a hospital of the future. Behind historic fronts a "Green Building" was constructed. 156 beds, 80% of which in private apartments, combine modern medical technology with the amenities of a 5-star hotel. I.e. the digital patients files enabling doctors and nurses immediate access to all medical findings at a fingertip on their tablets.