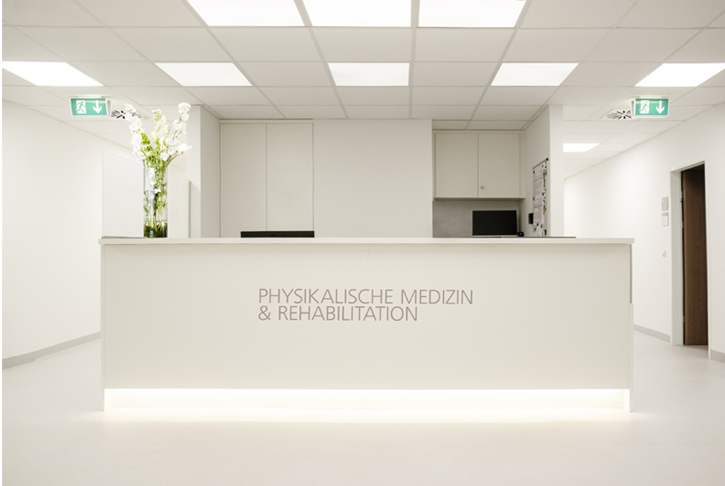 What do I need before I start a therapy?
You need a medical prescription from your treating physician. The prescription may be issued by your general practitioner or by any specialist. You can also be given a medical prescription after a specialist's evaluation in our hospital – which we can arrange at short notice. Please contact us personally while you are here or give us a call. All therapies are conducted under the supervision of a medical specialist.
What should I keep in mind when scheduling appointments?
We offer you exact and early appointments for treatment. We advise you to fix your initial and subsequent appointments early. Only then can we reserve the therapist of your choice and take your preferred dates into account.
How can I cancel an appointment?
If you are unable to keep an appointment and need to cancel it, please let us know 24 hours in advance by e-mail or by calling us. Otherwise we will have to bill you 100% of the cost of therapy.
Should I wear something special when I come for therapy?
Please take gym wear (such as sweatpants, T-shirt) which can be changed easily. Most importantly, wear sturdy shoes (like sports shoes or sneakers).
I have acute pain – may I just come in?
We are available for you in acute situations as well. Please call us. We can arrange an appointment with our in-house specialist for physical medicine. Quite often this can be arranged at very short notice.
Can I undergo my rehabilitation program as an outpatient?
Yes of course you may.
How can I pay my bills?
We will send you an invoice once a month by post, even if your medical prescription has not been completed yet and extends over a longer period of time. We request you to pay the invoice upon receipt.
Can I get a reimbursement of the costs?
Our services have to be paid privately. Many health insurance companies and supplemental insurance companies offer a variety of reimbursement options. The pre-approval obtained from your health insurance company will provide a partial refund. You may submit the invoice to your statutory health insurance or private health insurance company. We will give you an invoice once a month for the therapy units you have consumed. As most medical prescriptions are valid for several months, you should collect your paid invoices up to the prescribed number of sessions and submit these jointly (especially at the ÖGK or Austrian Health Insurance).