An integrated approach from a team of experts
Be it diabetes, hormone or metabolic disorders or diseases ot the thyroid – our specialists treat you in an interdisciplinary way and also help with early detection and prevention. Our integrated approach comprises additional specialists as well as all necessary preventive diagnostics and consultations for exercises, nutrition and stress.
Prevention is better than therapy.
Some metabolic disorders develop over time without being noticed. Early symptoms such as chronic hyperglycaemia or disorders of the cholesterol metabolism are easily overlooked because they do not cause noticeable effects. Obesity is an important precondition for diabetes type 2 or hypertension. In return, these factors can cause a stroke, a heart attack or kidney failure. Early detection prevents these problems.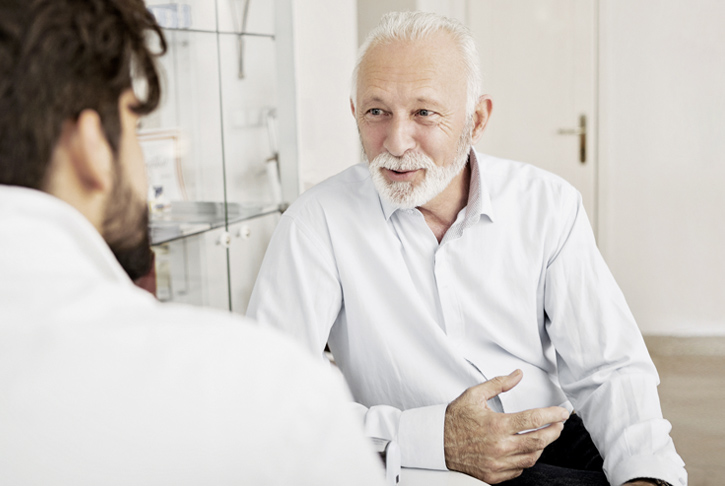 Initial consultation with your specialist
Profound diagnostics are the most important prerequisite for any successful therapy. We offer all examinations on premises. You can also make an appointment to re-evaluate your existing medical findings with a specialist in our Private Outpatient Clinic. The doctor will suggest a comprehensive treatment plan or, if necessary, further diagnostic investigations. The skills of outstanding specialists is available for you. You will be given early appointment with no waiting times.
Customized therapy plan & professional support
Your doctor in charge will suggest an individual therapy plan in accordance with the most recent medical standards for your metabolic disease. Success depends on your active involvement. A change of lifestyle can help to reduce medication and potential secondary diseases. Being easier said than done, you can count on the support of our interdisciplinary team of nutritionists, physical therapists and psychologists.
Nutrition as medicine
Appropriate nutrition is fundamental for treating metabolic diseases. Our dieticians elaborate your individual nutritional concept together with your doctor balancing your preferences with the medical requirements. They analyze your eating behaviour and help you to integrate the nutritional change into your day-to-day life.
Exercise as medicine
Exercise is also a key factor and an effective "medicine". However, the appropriate dose is most important. To develop a suitable exercise program we analyze your personal load-bearing capacity. We help to control your blood sugar level while exercising. In case of additional health conditions such as hypertension, we chow you how to exercise individually. Physical Medicine & Rehabilitation is your competent partner for exercise.
Counselling for stress and sleep disorders
Permanent stress and sleep disorder can also play a role in the development of metabolic diseases. Our psychologists will analyze in detail the potential physical and mental aspects of your illness and draft strategies for dealing with these. Single counselling sessions are also available.