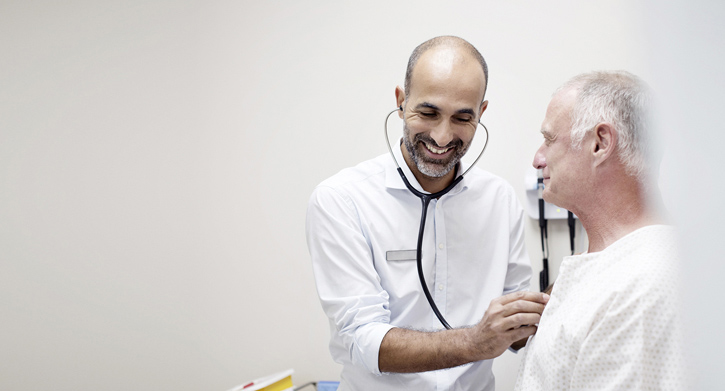 Prompt help for you: Our Private Outpatient Clinic
The Private Outpatient Clinic without waiting times
Prompt help is best. The competent team in our Private Outpatient Clinic is always there for you – without waiting times. The Private Outpatient Clinic is at your service at all times. For any health problem or question, Private Outpatient Clinic is the best choice. A general practitioner with emergency training examines you immediately. Should you need help on the weekend, just give us a call.
Immediate help
We can help you with almost every health problem without delay and offer the necessary diagnostics on our premises:
Bellyache and back pain
Throat, head or earache
Nausea and dizziness
Problems with blood pressure & circulation
Injuries of ligaments & bones, pain, contusions
Acute skin rashes
Vaccinations
Urgent medical assessments (i.e. before travel)
When feeling acute, life threatening symptoms and emergencies, such as heart attack or stroke please call an ambulance immediately. We also cannot attend to tooth pain or open bone fractures.
Find your specialist quickly and easily.
Should you need a specialist doctor we quickly organize an appointment – in most cases on the same day. Interdisciplinary cooperation between specialist of all medical fields is our focus. Not only general practitioners with degrees in emergency medicine are at your disposal, but also top specialists of all medical fields are there for you. Your quick and competent treatment is guaranteed.
At Rudolfinerhaus renowned specialists of these areas are available:
Allergology
Ophthalmology
Anaesthesia
Dermatology
Endocrinology
Gynaecology & Obstetrics
Ear, Nose & Throat
Internal medicine
Cardiology
Paediatrics
Neurosurgery
Neurology
Oncology
Orthopaedics
Plastic surgery
Pulmonology
Trauma surgery
Urology
Nutrition counselling, psychology and nursing specialists