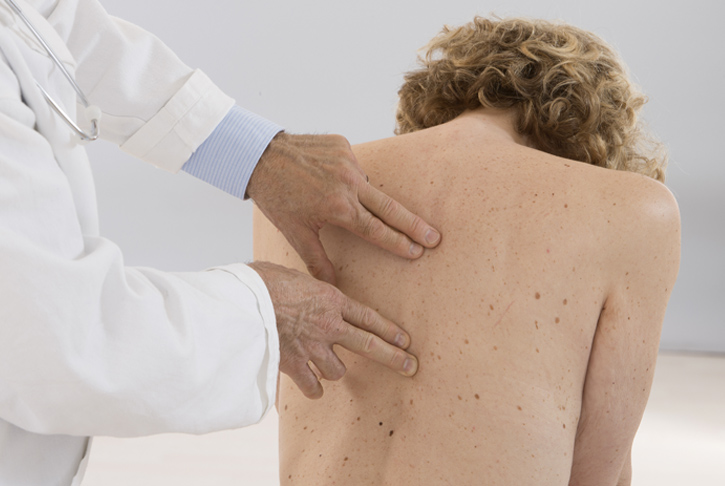 Degenerative diseases of the musculoskeletal system including spine and joints are very frequent. These diseases are the cause for almost 80% of patients who suffer pain.
It is mostly pain of the spine or of joints that leads patients to contact a specialist. Pain can affect the organism in various and very different ways. Often stress-related pain keeps a patient on his feet. Only a comprehensive anamnesis and careful diagnostics can reliably detect the causes for the pain.
Pain strains patients at work and leisure, reduces mobility for the elderly and can lead to sleeplessness which in turn further deteriorates the wellbeing and reduces physical fitness. Additionally, limited mobility, impediments in the everyday life, muscle weakness and swellings can occur.
Breaking the pain circuit
Pain of the musculoskeletal system originates in pathologically alterated parts of the spine or the joints. There, neural receptors, the so-called nocireceptors, send pain signals to the brain. These in turn cause reflectory muscular tension leading to malpositions. These cause pain again: a vicious circle. The therapeutic approach is to remove or at least balance this primary mechanical or functional disorder and to switch off the nocireceptors at the original source of pain. However, precise diagnostics is tantamount for successful treatment.
Finding the cause of pain
Typically, pain with unknown origin are treated with unspecific pain killers. However, collateral effects are possible. Unlike general pain therapy, orthopaedic pain therapy does not look for treating the symptoms by medication and its side effects, but tries to achieve precise and radiological diagnoses to develop targeted therapies and treat the causes for pain.
Diagnostics and targeted therapy
First, the specialist doctor will examine the patient clinically. Based on this clinical diagnosis, further examinations such as x-ray, CT or MRI are indicated. With these findings by diagnostic imaging, the treatment plan is developed.
Light or intermediate alterations in the area that causes pain can be treated locally by analgesic and anti-inflammatory injections. Often, this treatment successfully breaks the pain circuit. In the spine, fine vertebral joints or nerve roots can be treated by targeted infiltrations, sometimes directed by CT. Quick and lasting pain relief is mostly possible. With herniated discs, injections also achieve quick pain reduction, thus avoiding more invasive surgery.